Your trade credit insurance broker in Wiesbaden, the expert for your business.
With over 25 years experience, skilled in the fields of bonds, trade credit insurance, and credit management, we are your trade credit insurance broker located in Wiesbaden. We will gladly advise you regarding your trade credit management and communication with credit insurers and agencies. We are your trustworthy partner for credit management and guaranties. Thereby, we will assist your business and always stand by your side. Furthermore, we will facilitate the basis of your bank financing and, if so desired, will complement this with alternative financing solutions, such as factoring.
We strive to be the trade credit insurance broker our clients can have confidence in, for a long-lasting relationship. In doing so we will not shy away from going the distance, serving clients in Mainz, Wiesbaden, Frankurt and far beyond. Our goal is to provide you with the results and efficient guidance you expect.
How we operate:
Initially, we analyse your problem area and optimize, as a first step, the status quo with your current partners. That means, a successful working relationship does not necessarily require us to sell you something new. Provided you wish for it we will find new, suitable partners for you in the industry.
In addition, we will comprehensively analyse, if necessary, the credit management process of your business and, together with you, develop a suitable concept for optimization.
What sets us apart from the rest:
With Dreilich Finance you will always have ONE experienced counterpart by your side in all that matters. We are industry experts who understand how the sector functions and, as a result, can achieve the liquidity you need to advance your business forward!
We are your trustworthy guide to the market
The bonding insurance through an insurer is comparable to surety dealings by the banks. We can present you with advantages which banks are not able to offer. The philosophy of bond insurers is significantly different from banks. The benefit of insurers is that, opposite to banks, they do not count the guarantee against the client's line of credit. Nowadays, most employers try to keep their risk low and take great care before awarding a contract, ensuring for their own interest's sake that they go forward with the utmost care. We, as a trade credit insurance broker will help you make the right decisions so that you save money, increase your payment reserves, and strengthen your competitive advantage. Get in touch with us and let us guide you.
We are your doorway to the entire market.
Owner
Mathias Dreilich has been working as a national and international broker and consultant since 2000, has been self-employed since 2009, and has more than 25 years experience in the industry.
For his clients he is the guide to the market, and because of his many years of experience he can solve their problems individually and with competence.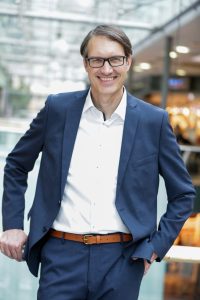 "Every major trade credit insurer, bond insurer and the major factoring companies know us since a lot of years: The cooperation has always proven itself for all parties"